HP type Replacement Teikoku canned motor pump
---
Name:
HP type Replacement Teikoku canned motor pump
Product Description
【 application. Specialty 】
Basic canned motor pump (HP) is the basic type of electric pump, pump body directly installed on the front flange of the motor.Suitable for transporting organic and inorganic chemicals, vacuum system, high pressure system and nuclear radioactive liquid.
"Parameters"
Flow rate (Max) : 600m3/h
Full head (Max) : 160m
Motor power (Max) : 132kW
Advantages of canned motor pumps
Fully enclosed
There is no dynamic seal on the structure, and only there is a static seal on the casing of the pump, so it can be completely leak-free, especially suitable for conveying flammable, explosive, precious liquids and toxic, corrosive and radioactive liquids.
2. High security
The rotor and the stator each have a shielding sleeve so that the motor rotor and the stator are not in contact with the material. Even if the shielding sleeve is broken, there is no danger of external leakage.
3. Compact structure and small footprint
The pump is integrated with the motor, and it is not necessary to center it when disassembling or assembling. It has low requirements on the base and foundation, and has a small daily maintenance workload and low maintenance costs.
4. Smooth running, low noise, no need to add oil
Because there is no rolling bearing and motor fan, no lubrication is required and the noise is low.
5. Wide range of use
It can meet the requirements of various working conditions such as high temperature, high pressure, low temperature and high melting point.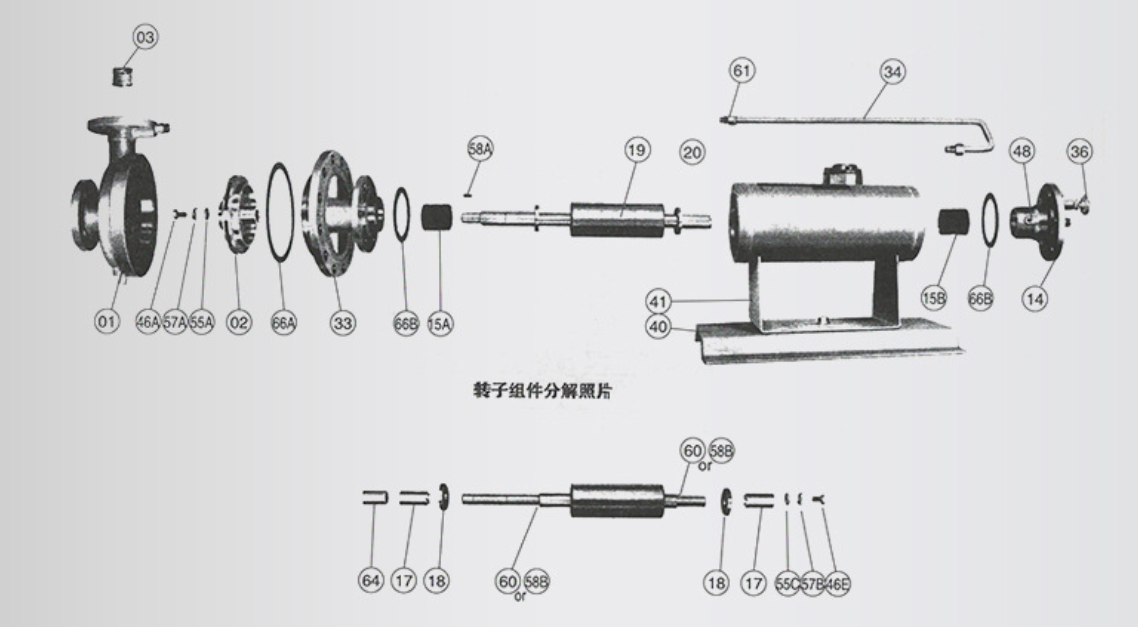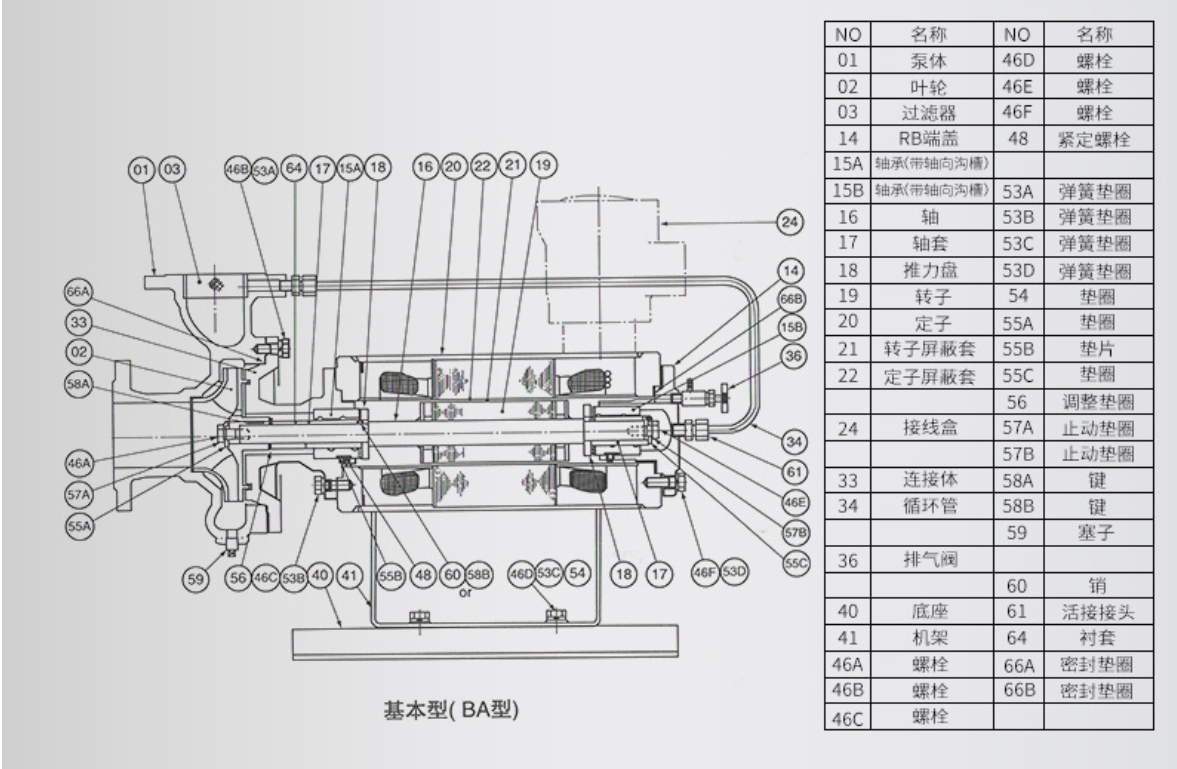 | | | | |
| --- | --- | --- | --- |
| No | Parts name | No | Parts name |
| 01 | Pump house | 46D | screw |
| 02 | impeller | 46E | screw |
| 03 | filter | 46F | screw |
| 14 | RB end cap | 48 | Set screw |
| 15A | Bearing | | |
| 15B | Bearing | 53A | Spring washer |
| 16 | shaft | 53B | Spring washer |
| 17 | sleeve | 53C | Spring washer |
| 18 | Thrust collar | 53D | Spring washer |
| 19 | rotor | 54 | washer |
| 20 | stator | 55A | washer |
| 21 | Rotor canned sleeve | 55B | gasket |
| 22 | Stator canned sleeve | 55C | washer |
| | | 56 | Adjustment washer |
| 24 | Junction Box | 57A | Stop washer |
| | | 57B | Stop washer |
| 33 | connector | 58A | key |
| 34 | Circulation tube | 58B | key |
| | | 59 | plug |
| 36 | vent | | |
| | | 60 | pin |
| 40 | Base | 61 | Union |
| 41 | chassis | 64 | bushing |
| 46A | screw | 66A | Seal washer |
| 46B | screw | 66B | Seal washer |
| 46C | screw | | |
---
Related Products